Do you consider that your tourist activity can be an azoresallinblue experience?

Contact us!
What is AZORES ALL IN BLUE?
Aiming to enhance the tourist development matrix based on the archipelago's natural wealth, AZORES ALL IN BLUE is a project with a mission that requires the collaboration of all agents in the sector, so that the Azores destination can assert itself as the natural choice within the scope of international inclusive tourism.

How do we intend to achieve this goal?
Small changes on the companies operations and in the daily lives of the people who work for them, will make it possible to materialize the central objective of AZORES ALL IN BLUE, enabling each agent in the tourism sector that collaborates with this project to be able to participate in the creation of a new inclusive touristic product, aimed at children with Autism Spectrum Disorders (ASD) and their families.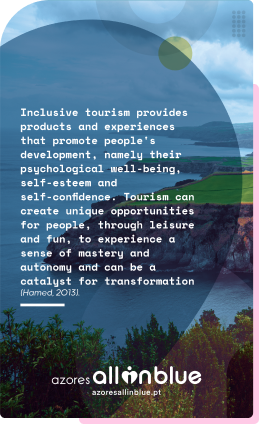 Why children with ASD and their families?
PEA is a highly prevalent phenomenon worldwide. 1 in 160 children have autism spectrum disorders and those who travel, they travel with caregivers, which considerably increases the number of consumers of all their travel programs, whose demand is conditioned by the children's needs while on the supply side, products tailored to those needs do not abound.

Why the Azores archipelago?
Available studies indicate that due to the specific characteristics of children, families with children with ASD prefer and look for quiet touristic destinations and touristic products that provide contact with nature and the Azore destination has a set of diversified natural resources that, with a little help from sector agents participating in this project can respond to the preferences of these families, constituting an empowerment tool for these children, allowing them to develop a greater sense of mastery and autonomy, more well-being and quality of life.

What benefits does it bring
to participating companies?
Local, national and international research carried out in this context reports significant direct and indirect economic gains for the tourism sector, both increasing the customer base and reducing the effects of seasonality and increasing competitive advantages, through the imperative fulfillment of Inclusion and the Sustainable Development Goals.

How important is the collaboration
of agents in the sector?
All agents in the sector's value chain are the main source of information to gain an understanding of the current conditions and specific needs at the level of Inclusive Tourism for families with ASD.
It is the vision and experience of the sector's own agents that will lead us to the introduction of new and decisive elements to improve the available offer, transforming the archipelago into a preferred tourist destination for everyone.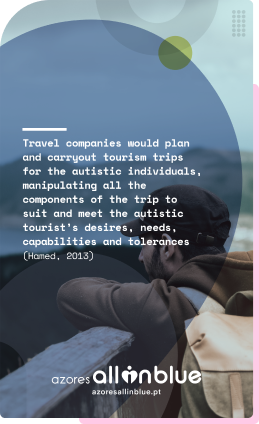 Training action
Inclusive and Accessible Tourism for Autism
The first training action in "Inclusive and Accessible Tourism for Autism". This action was promoted by CRESAÇOR - Regional Cooperative of Solidarity Economy, CRL in partnership with the Azores All in Blue project - Tourism & Autism. it was about 30 hours of moments of interactive practice, learning and sharing.